Cake Software Foundation, Inc
1785 East Sahara Avenue, Suite 490-423
Las Vegas
, NV
89104
USA
Contact Us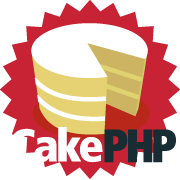 CakePHP makes building web applications simpler, faster and require less code.
Visit: http://cakephp.org
CakePHP Training
Online CakePHP training sessions allow developers to quickly become familiar with the framework.
Join: http://training.cakephp.org
CakeFest Conference
The annual CakePHP conference provides the ultimate community experience, with live workshops and amazing talks.
Attend: http://cakefest.org
Trademark & Logo
Cake Software Foundation, Inc. owns the registered trademark CakePHP. Any mark starting with the letters CakePHP or Cake, is sufficiently similar to one or more of the trademarks that permission will be needed in order to use it.