Donate
The Cake Software Foundation could not exist without the continued generous support from the community. Join developers from around the world, and help keep CakePHP alive and kicking!
Donate via PayPal
We accept donations via PayPal, for secure online transactions. Simply click the button below to make a donation of the amount of your choosing.
Note: This requires an account on http://my.cakephp.org, as we list you publically as a supporter of the project here.
Make a Donation
Alternatively, you can make an anonymous donation with an amount of your choosing here.
Donate via Check
We also provide the option to donate by sending a check or money order, payable to the "Cake Software Foundation, Inc.", (donations only, please) at:
Cake Software Foundation, Inc.
1785 E. Sahara Avenue, Suite 490-204
Las Vegas, Nevada 89104

Merchandise
If you'd like to show off your support for the project head over to our online shop and purchase some sponsored CakePHP gear or accessories at CafePress.
Other
Another great way to support the project is to join a training session, or apply for official certification in using the CakePHP framework. There's no better option to support the framework, and also walk away with something for yourself.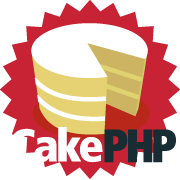 CakePHP makes building web applications simpler, faster and require less code.
Visit: http://cakephp.org
CakePHP Training
Online CakePHP training sessions allow developers to quickly become familiar with the framework.
Join: http://training.cakephp.org
CakeFest Conference
The annual CakePHP conference provides the ultimate community experience, with live workshops and amazing talks.
Attend: http://cakefest.org
Trademark & Logo
Cake Software Foundation, Inc. owns the registered trademark CakePHP. Any mark starting with the letters CakePHP or Cake, is sufficiently similar to one or more of the trademarks that permission will be needed in order to use it.